Welcome to The Dreaming House
Behind a gated wall in the village of San Sebastian Xolopan, adjacent to the ancient city of Teotihuacan, lies the Casa de los Sueños. Within its spacious compound are a dozen rooms decorated with the art of Mexico's past, both recent and distant. The rooms have modern conveniences, but no modern annoyances. The atmosphere is reminiscent of the house of don Juan's warrior's party, as described in the books of Carlos Castaneda, Florinda Donner and Taisha Abelar. One expects time to stretch and space to bend. Miracles seem normal, and are. Meals in the spacious and gracious dining hall are miraculous in themselves, country Mexican food prepared with skill and love. It's a magical place for a magical time.
Teaching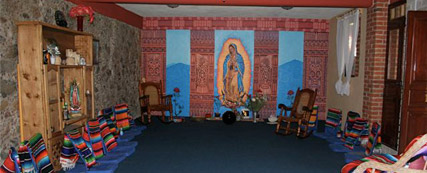 The Teaching Salon provides a powerful and comfortable setting for classes. One end is beautifully decorated with a mural of the Virgin of Guadalupe, a symbol of the Mother for Catholics and Toltecs alike. The opposite end of the Salon features a large obsidian sphere and large floor-level, plate glass mirrors for mirror work. Floor seating is provided with backjack chairs. For information about bringing a group, please contact us.
The Estate
The original home which forms the nucleus of the Dreaming House dates back over a hundred years. Although updated and converted entirely for retreat use, traditional family hospitality still graces the grounds.
[ Take a look at the Gallery]
Facilities include
The living/teaching complex, a detached kitchen/dining building, and a part time residence. It will accommodate groups of up to 34 persons in gracious comfort for retreats, power journeys, and workshops. We invite inquiries about pricing and scheduling - please contact us.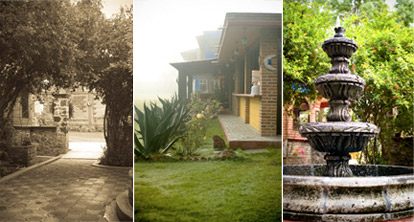 photographies by Iva Peele
Accommodations
There are no "cookie-cutter" rooms at The Dreaming House. Rooms are large with comfortable matrimonial and twin size beds, 4 of the rooms can be used as triples with 3 beds each. Floors and bathrooms feature ceramic tile and many unique wall murals and pictures add to the gracious, family atmosphere. The Dreaming House can accommodate up to 34 persons. Each sleeping room has a private bathroom with shower, except for two bedrooms which share a single bathroom and common parlor/library area.
We are also completing two comfortable apartments for guests who want to stay for longer periods of time. Each apartment has two guest rooms, a living room and kitchenette
Dining
Meals are taken family-style in La Cocina (the dining room), a large room which can seat up to 70 people. The traditional kitchen is staffed by family members, led by your hostess, Veronica Contla Galicia. Two meals (breakfast and early supper) with set menus and bottled water (for rooms and day excursions) are included as well as a light evening snack.
Vegetarian meals can be provided with advance notice and a variety of familiar dishes are available, but we recommend that organizers choose traditional Mexican cuisine, featuring tamales, mixiotes, pozole, nopalitos, flan, and more. Dinner may also include beer and tequila at the option of trip organizers. Traditional breakfasts include such dishes as scrambled eggs (sometimes Mexican-style) or hotcakes, frijoles, fresh tortillas, juice, and coffee.



Photos by Madelyn Miller
Transportation
All airport transportation is provided by licensed, insured vehicles. Larger groups are driven in 15-30 passenger mini-buses with professional drivers. Alberto carefully selects drivers to ensure that Dreaming House guests have safe, reliable transportation. Package fees include transportation to and from the airport in Mexico City, transportation to and from the Pyramids (if desired).Guests may arrange trips into nearby San Juan, where services include a Wal-Mart and several ATM machines. Groups may also arrange transportation to little-known ruins and sacred sites within a half-hour's drive. With prior arrangement, we can provided transportation and guided tours to the Basilica, museums, Frida Kahlo's residence, and incredible shopping in Tenochtitlan (Mexico City). Please let us know what you want to see!
Get in touch
If you are interested in booking The Dreaming House or have any questions, please contact us with the details so we can assist you in the best possible way.